Snapshot
Ceritification
Certified by National Council on Strength & Fitness
Expertise
Expert in Functional Training
Expert in Kettlebells
Expert in Weight Loss
Expert in Athletic Training
Expert in Bikini Competition Training
Expert in Bodybuilding
Expert in Bodybuilding Competition Training
Qualification
Background Checked
Insured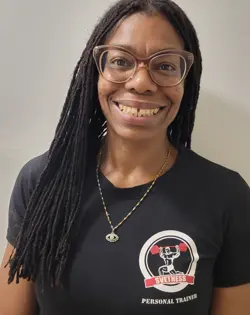 Biography
Mahdiyya's passion is to spread the importance of maintaining a healthy lifestyle and fitness to individuals interested in making a change. During Mahdiyya's fitness journey, there were many obstacles she had to learn how to overcome. Many of those obstacles are things people struggle with currently- weight loss and nutrition, program design and proper form. In order to do so, she has acquired the skills necessary by going through hands-on learning to get her first personal training certification from Revolutionary Fitness. Upon receiving her certification she left her job of 18 years at Downstate Medical Center to put her skills to the test to work at Blink on Fulton street. Spending roughly 6 months at Blink, she moved onto Equinox, and other gyms looking for the right space to train Her way. In July 2021, Mahdiyya decided to leave the gym she worked for at the time and create The Fit Rebels. The Fit Rebels are individuals new and reintroducing themselves to a fitness lifestyle. Mahdiyya wants to ensure everyone that they can complete a fitness program and be successful.
Aug 20, 2023
Dia showed up on time and ready to go. She took the time to give a thorough fitness assessment, and created a circuit to target goals. She was kind, professional, and highly knowledgeable. Looking forward to working together.
Jun 28, 2023
Dia is amazing. She's really gotten to understand my strengths and limitations, and my body has transformed so much. Every week, I feel like I got a new superpower. Easily the best trainer I've ever worked with.
Sep 19, 2023
Best session yet! Loved working with Dia using free weights! More of that please :)
Get your free consultation today