Snapshot
Ceritification
Certified by National Academy of Sports Medicine
Expertise
Expert in Cardio and Conditioning
Expert in HIIT training
Expert in Pilates
Expert in TRX
Expert in Yoga
Expert in Endurance Training
Expert in Plyometric
Expert in Aerobic Fitness
Expert in Strength Training
Expert in Weight Loss
Qualification
Background Checked
Insured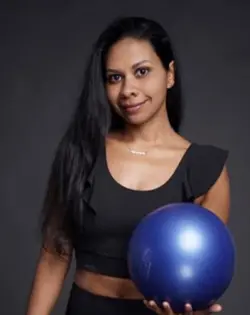 Biography
I am a professional contemporary ballet dancer that moonlights as a fitness trainer. I am fully trained in Cardio Barre Technique, kickboxing, stretching, Pilates and core conditioning. I truly believe in allowing yourself to have good training days and not-so-great training days--it's all part of the process, keeping the balance between your mind+body connection. My sessions are challenging and uplifting at once adjusting the level according to your needs. Are you thinking happy, positive, reaffirming thoughts? It's not always easy. So when the negative self-talk creeps in, we will check it and change it together. I won't let you give up! I will push you to your edge in a fun, filled atmosphere with an amazing music playlist!
Jun 22, 2020
Helen is a great trainer! She is really dedicated, and wants to see you achieve your goals. Helen's trainings are challenging, but do not leave you completely sore and hating exercise. On days that I am not training with Helen, she gives me homework assignments and checks to make sure I am keeping up with them. Helen also gives tips on proper nutrition. Overall, I am really enjoying my sessions with Helen.
Dec 26, 2022
Finished my first session, was really good! The trainer was very helpful and understanding.
Jun 22, 2020
Helen is a motivator. She does not accept excuses. One of the nicest and most honest people I have ever met.
Get your free consultation today