Snapshot
Ceritification
Certified by National Academy of Sports Medicine
Expertise
Expert in Plyometric
Expert in Strength Training
Expert in Weight Loss
Expert in Bodybuilding
Expert in Cardio and Conditioning
Expert in Endurance Training
Expert in Functional Training
Qualification
Background Checked
Insured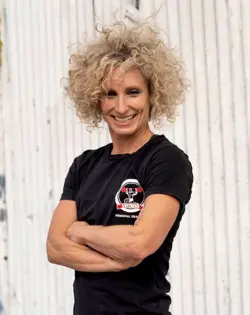 Biography
In the world of fitness there is no thinking other than "I think I can!". From distance running, to crew coxswain, dance, hot yoga, body building, HIIT, and martial arts, I have explored a multitude of physical disciplines to guide you on your wellness journey. As a schooled artist, I have lived by my mantra "Sculpting the mind, sculpting the body, and sculpting the world around me", and that is where you come in. I am skilled at cross training with various modalities that incorporate mindful meditation, nutrition enhancement, and flexibility strategies. Since motherhood, my mindset has shifted to passing healthy lifestyle habits to the next generation and continuing them into the latter years of life. I look forward to offering you guidance no matter what stage of life you are in.
Nov 01, 2022
I've been working out with Emily twice a week for the last 3 months. My goals were to recover from a back injury, get stronger, and develop a healthier relationship to fitness in general. Emily helped refine my form, recommend exercises that strengthened my supporting muscles and worked with me to develop a program that i actually enjoy doing. She is great at evolving her routine and working style to accommodate her clients while knowing when to push them to achieve more. There was a mome...
Nov 01, 2022
I've been working with Emily for almost 6 months now, and I couldn't be happier. She has helped me learn how to lift weights with proper form, strengthen my core and eliminate the back pain that kept me from being as active as I wanted to be. I see a big difference in my physique, too. She is super knowledgable and keeps the routines varied and fun. Highly recommend!
Get your free consultation today