Snapshot
Ceritification
Certified by National Academy of Sports Medicine
Expertise
Expert in Cardio and Conditioning
Expert in HIIT training
Expert in Endurance Training
Expert in Functional Training
Expert in Aerobic Fitness
Expert in Strength Training
Expert in Weight Loss
Qualification
Background Checked
Insured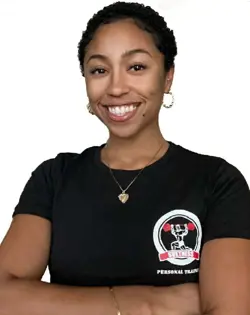 Biography
Kiana was born in Cali, raised in VA. Growing up Kiana danced on a competition team all throughout high school. She went on to study Dance + Choreography at VCU, earning her BFA in '15 Then went to live her dreams as a professional dancer in LA dancing for some of your favorite artists + awards shows! Later she wanted to impact lives more directly, so she expanded her love for movement + got certified to be a personal trainer. She focuses her approach on changing her clients perspective of overall fitness to a fun way to simply get moving! Kiana specializes in weight loss, body toning + functional strength conditioning. Her life purpose is to help people take the chore out of achieving our personal best and that looks different on every body!
Feb 25, 2022
This was my first experience with a virtual session and it was not as difficult as I expected (technology wise). Might make me consider a hybrid approach instead of wanting 100% in-person.
Feb 28, 2022
Never thought remote training would be as thorough as in-person, but I'm learning I was wrong!
Get your free consultation today