Get your free
consultation today
Our friendly
certified trainers in Frisco
Real results by real people you can trust. Our trainers are certified by reputable organizations like ACE, NASM, NSCA, ACSM and provide 360 degree support that incorporate health, nutrition, and mental wellness.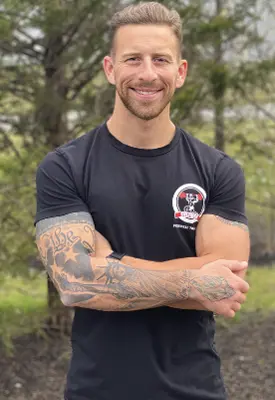 Meet Cory
I enjoy being a part of this industry, working to improve the always evolvement of health and wellness. For the last 20 years I have been cultivating my skills through sports, certifications, education & degrees, military training, and an on-going experiment of myself through multiple types o...
Certified by National Academy of Sports Medicine

Expert in HIIT training

Expert in Soccer

Expert in Strength Training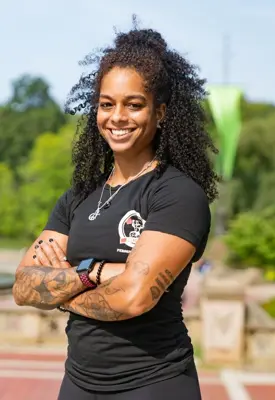 Meet Gwen
Hi there, nice to meet you. My name is Gwen, and I've been training one on one for 4 years now. Coming from a sports background, Fitness has always been a major part of my life, from training to throwing the javelin, weight, and hammer in college to now competing on a stage for Figure Bodybuildin...
Certified by National Council on Strength & Fitness

Expert in Cardio and Conditioning

Expert in Track and Field

Expert in TRX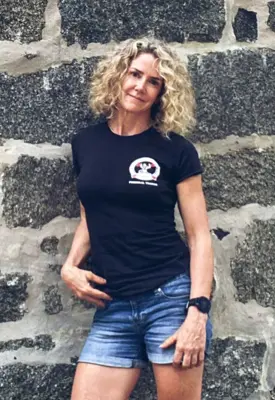 Meet Michele
Hi! I am Michele! I was born an raised in Baltimore, MD and still live in the area to this day! I am super passionate about living a full and healthy life and want to share that passion with others! Just a few of the ways I like to move, include running and love competing in races, and especially...
Certified by The American Council on Exercise

Expert in Plyometric

Expert in Strength Training

Expert in TRX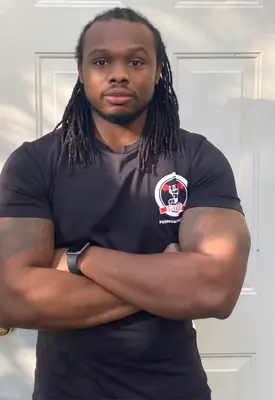 Meet Byshi
Byshi has dedicated his life to bettering others and changing their lives with the power of health and fitness. Byshi is passionate about helping others and overcoming the shortcomings that they may have. With certifications including ISSA ( International Sports Science Association) ,SCW Mat Pil...
Certified by International Sports Sciences Association

Expert in Strength Training

Expert in Weight Loss

Expert in Bodybuilding
We come to where you are with all the equipment you need.
Work with a Frisco-area Svetness trainer who comes to you with the equipment you need. Less stress, more results.
We will approach your training strategically with clear goals.
Every training session is designed to help you reach your goals effectively and efficiently, through evidence-based workouts and nutrition.
Our trainers will be always on time.
Track your upcoming workouts right in your Svetness app. Rate and review your trainer after each and every workout.
Everything you need in one place
Weight Loss
Weight Gain
Body Building
Aerobics Fitness
Competition Training
Sports Conditioning
Youth Fitness
Senior
Fitness
Strength Training
hours of training completed
get
your
free
consult
ation
Today
Step 1

Fill out the form

Tell us your basic information and your needs, and we will contact you within 24 hours.

Step 2

Schedule Consultation

We'll reach out by phone, text, and email to schedule you a free fitness consultation with a leading fitness professional.

Step 3

Get a Trainer Match

We'll match you with a certified trainer that fits your schedule, needs, and goals.

Step 4

Start Training

Your fitness journey begins with a structured 1-on-1 training program, nutritional guidance, and live fitness classes.
Frequently
Asked
Questions
Svetness is an in-home personal training company with certified trainers, nationwide enthusiastic about getting people committed to a healthy lifestyle. We come to your house, community gym, or even meet you outdoors to help you reach your fitness goals.
We make finding a trainer easy! All of our personal trainers go through our interview process, background checks, certification screening and are all fully insured prior to being assigned to our clients. We handle all transactions withour clients to ensure you will get the services you pay for. You will be assigned a dedicated Account Manager that will be available for any assistance during your time with us.
The idea for SVETNESS arose from a desire to help people achieve a healthier lifestyle without the intimidation of the gym. We believe that being healthy and fit is a goal that everyone can achieve from the comfort and safety of their home.
The Company was started in 2011 but was officially launched in 2012.
Our trainers come to a location that is most convenient to you (outside of privately owned gyms). Our Personal Trainers have worked out with clients in parks, offices, apartment gyms, beaches & open spaces. You tell us where you want to workout, and we will be there!
Fill out the following form:
Form
and one of our representatives will contact you within 24 hours to schedule a FREE Fitness Consultation.
The free fitness consultation is a brief meeting designed to give our clients more information about our company and the services provided. Potential clients meet with one of our fitness directors to go over what they are looking for in a personal trainer and what plan will be best suited for their needs.
We currently have a very large database of thousands of trainers nationwide.
You have the option to choose a Male or Female trainer, we have both.
We select the trainer by the following criteria: Location, Goals, Expertise, Availability and Gender requests if any.
Free! With Svetness, you'll get a free consultation with a fitness director who will set you up with a local Frisco personal trainer in our network. In the consultation, you'll learn more about our services and communicate your goals, preferences, and expectations.
Higher prices don't always translate to better quality services, but ultimately, the answer to this question is up to you. At Svetness, we strive to create customized plans that are both affordable and expertly designed.
Absolutely! Our personal trainers offer Frisco weight loss training programs and will evaluate your fitness goals and create a plan catered to those expectations. If your goal is to lose weight, your fitness and nutrition plan will reflect that goal!
Our Frisco in-home personal trainers come to you, so there's no need to worry about traveling to a private or commercial gym. Instead, we'll come to you, wherever is best for you. You can choose to meet your trainer on a beach, in an apartment gym, or even in an office – it's up to you!